Winchester's new stigmata
by Geoffrey Macnab © The Times March 27 2002
Winchester Cathedral has commissioned a daring new work for Holy Week says Geoffrey Macnab... To most visitors, Winchester Cathedral seems the most placid and English of settings. Jane Austen is buried here. So is Izaak Walton, author of The Compleat Angler and patron saint of fishermen everywhere. True, there are mortuary chests containing the jumbled bones of Saxon kings, but there is little else to startle anyone of a squeamish disposition. Perhaps that's why the cathedral's decision to commission a new work by the artist Michael Clark seems so bold.
Clark is one of Britain's leading contemporary portrait painters. His subjects have included Francis Bacon, the singer Lisa Stansfield and Film maker Derek Jarman. 10:07-09, on display over Holy Week in the Cathedral, is his most radical piece yet.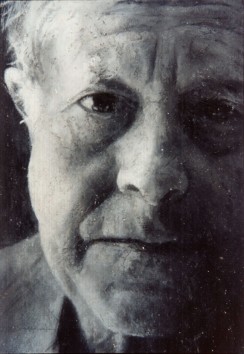 Loosely inspired by Mantegna's painting
Dead Christ
and by a passage in St John's Gospel, it seems more akin to the work displayed in Norman Rosenthal's
Sensation
exhibition than anything you'll see in an English church. Clark cites Arthur Rimbaud's
Une Saison En Enfer
, Nic Roeg and Donald Cammell's film
Performance
, Aleister Crowley and Baudelaire as among his influences – not names normally bandied around during Sunday service. The dominant motif is a key with a nail fixed to it by blue surgical thread turning in an open wound. There are five images of wounds in all. These are projected digitally on to the west door of the cathedral. The images slowly change, morphing from one to the other over a period of 360 seconds. Meanwhile, alongside the wounds, lines from the 17th-century English poet Richard Crashaw are projected in a box on the right-hand lock. These in turn, are inspired by the passage in St John's Gospel which gives the piece its title. "I am the door: by me if any man enter in, he shall be saved, and shall go in and out, and find pasture" (ch. X, v. 9).
Beside the door are two large red curtains. From within, we can hear a recorded voice murmuring, as if enjoining us to come closer. It is the voice of the British film-maker Nic Roeg, intoning the vowels from the dedication to Clark in Colin McCabe's book about Performance. "To Michael, who has gone even further and achieved true madness …"
The idea of the key turning in the wound is borrowed from Christian writers and artists who have noted the similarities between the Latin words clavis (key) and clavus (nail). The blue of the surgical thread fastening the nail to the key is a reference to the blue of the Madonna. But, controversially, 10:07-09 is as much about alchemy as about Christianity.
Initially, Crashaw's words are shown in grey, but the vowels gradually change colour. The As become black, the Es white and the Is, Os and Us red, green and blue. The coding is taken from Rimbaud's alchemical poetry, in which he attributed colours to the vowels and strove to create "a poetic language accessible to all the senses".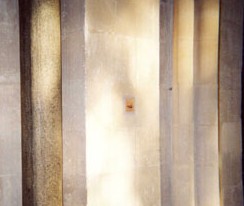 The installation might best be describes as a digital sequel to Clark's "small wound" paintings in Chichester. Commissioned in 1994, these are sutured to the walls in five different parts of the Cathedral.
Canon Keith Walker, responsible for visual art at Winchester, admits he was initially sceptical about Clark, whose work he first encountered at Chichester. "Against my expectations, I was very deeply impressed.
Michael is very intuitive. He perfectly understood the symbolism of the cathedral being the representation of the body of Christ in cruciform shape. When I examined the wounds, I found they were very sensitively and delicately created."
Winchester has a long record of commissioning contemporary art. It owns work by, among others, Eric Gill, Anthony Caro and Barbara Hepworth and holds several art exhibitions each year. The canon acknowledges that 10:07-09 is probably the boldest piece it has yet commissioned, but he hopes it will attract visitors who wouldn't normally come near the cathedral. "For young people the computer and digital projection are like pen and ink is for me". A work of art such as 10:07-09 which uses these tools speaks immediately to them."
Clark, meanwhile, scorns the idea that his work is in any way sacrilegious. Like his one-time mentor Francis Bacon, he is obsessed with the Crucifixion. "It is still one of the marvellous and extraordinary and difficult subjects for any artist to deal with. It's full of absolute horror in terms of man's inhumanity to man – regardless of whether one is a believer or not. And it can be read on whatever level one chooses."
Geoffrey Macnab The Times March 27 © 2002
An eclectic guide to opening the doors of perception
John Walsh. © The Independent 02 April 2002
Visitors to Winchester Cathedral over the Easter weekend may have thought this an odd sight to encounter in a place of worship, but we live in modern times. And there's nothing more complexly à la mode than a Michael Clark installation.
I've been a fan of the artist since he was a barman at the unspeakably decadent Colony Room in Soho and did photographically brilliant drawings of its louche greeters, Muriel Belcher and Ian Board. How far from Dean Street is the west door of the noble cathedral, where his five images of Christ's wounds are digitally projected onto the lock, constantly morphing into each other in an image-cluster of keys, nails, brutalised flesh, metal locks, and the ancient trope of the door as the path to heaven. Built into Clark's characteristically surreal, all-encompassing aesthetic is an audio-tape loop of the film director Nicolas Roeg, who can be heard intoning the five vowels, while the corresponding letters in a poem by Richard Crashaw (whose lines are projected onto a box beside the lock) glow in serial colours, corresponding to Rimbaud's conviction that A, E, I, O and U have colours of their own.
What it all adds up to I leave to the art critics, but I admire the way Mr Clark takes the idea of the Crucifixion wounds as doors of enlightenment, and runs off with it. William Blake would have liked his serious-minded concentration of images from a dozen sources – from the Bible (the piece is called "10: 07-09" and refers to the lines in St John's Gospel, "I am the door; by me, if any man enter in, he shall be saved...") to Francis Bacon, who once told Clark "Violence can unlock all kinds of areas of feeling and possibility." Any artist who can yoke together the Garden of Gethsemane, the metaphysical poets, mad French symbolists, Bacon's screaming popes and the director of Don't Look Now, is doing all right in my book.
John Walsh. The Independent 02 April 2002
© 2007 Independent News and Media Limited