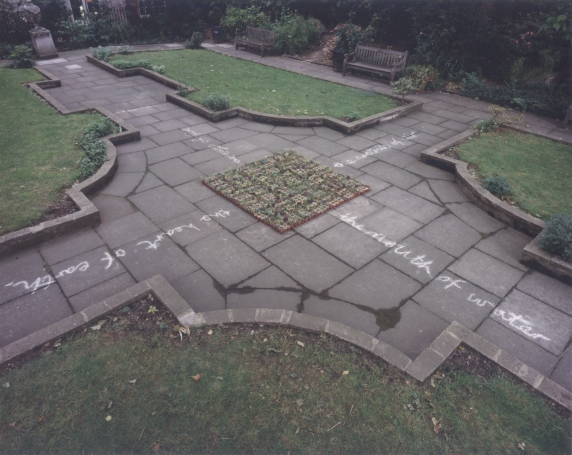 Geometry Of Healing site specific sculpture
St. James's Church, 197 Picadilly, London W1
June - July 1995
Iain Gale on exhibitions. The Independent. 1st December 1995
In the cut and thrust of the contemporary British art world, the artist Michael Clark has always been something of a maverick. Clark consistently refuses to fit into either of the categories characterised by the pundits as the two opposing "camps". Those who would categorise him as a painter of portraits cite his painting of Lisa Stansfield (Vanitas), featured in the National Portrait Gallery's 1993 international survey of portraiture, The Portrait Now. To others, however, Clark is a conceptualist, the maker of the tantra-like flower piece shown recently at St James's Church, Piccadilly. That he is of neither persuasion, but of both, is revealed by his portrait of Derek Jarman, recently placed on view at the National Portrait Gallery. Jarman was a friend of Clark, and the image is loaded with affection.
Clark was himself a one-time barman at the Colony Room and a good friend of fellow painter Francis Bacon. Like the late grand old man of British art, Clark's paint possesses more than formal power. Clark's is concerned not merely with physical verisimilitude, but with invoking the physical presence of the sitter and emphasising a sense of loss. Like the extraordinary series of "Wounds" which Clark made for Chichester Cathedral, his portrait of Jarman is more than a painting. It is at once an icon, a reliquary and a memorial.
More specifically though, it is possible to see this work as a powerful channel for collective memory. On 11 November, when the country stands in silence to remember its war dead, the focus of that outpouring of silent emotion is a block of white marble in Whitehall. If we need a similar matrix for the greif and hope which every year attach to National Aids Day (today), we could do far worse than this.
Iain Gale © 1995 The Independent