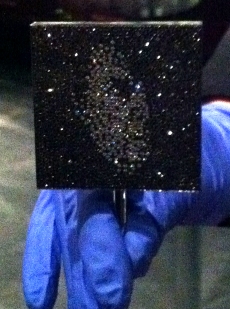 A painter portrayed - in diamonds
---
Every Man and Every Woman is a Star
Artist: designed by Michael Clark (b.1954)
Made: ICEROCKS LONDON, first of three
artist's proofs
Date: 2008 - 2009
Materials: black and white diamonds and a meteorite fragment mounted in silver
Location: William and Judith Bollinger Jewellery Gallery
Anonymous gift
---
A Portrait of the painter Francis Bacon executed in black and white diamonds looks out from each side of a square panel, mounted in silver. Created by the artist and friend of Bacon, Michael Clark, this double-sided portrait is part of a larger project,
Beautiful Dreamer
, a digital projection in which the animated sculpture of Bacon appears and disappears under the eyelids of Tilda Swinton.
Clark met Bacon in the Colony Room Club in Soho in 1977, and, at the suggestion of Valerie Beston of the Marlborough Gallery, made the first of a series of portraits of him. The V&A has a drawing by Clark of Bacon's studio in Reece Mews, London SW7, and the double-sided working drawing for Every Man and Every Woman is a Star. Clark allocated the positioning and supervised the layout on a computer screen of 4,802 brilliant-cut diamonds, which range in diameter from 0.7mm to 1.4mm. Each side of the panel is 2.236 inches, the square root of five, and the same size as Clark's Five Wounds, created for Chichester Cathedral in 1994.

Every Man end Every Woman is a Star is a potent and highly original sculpture. As figurative work and a triumph of virtuoso stone-setting, it finds many echoes among the jewels of the V&A. Richard Edgcumbe, senior curator, sculpture, metalwork, ceramics & glass.
The above text is from V&A Magazine Autumn/Winter 2013