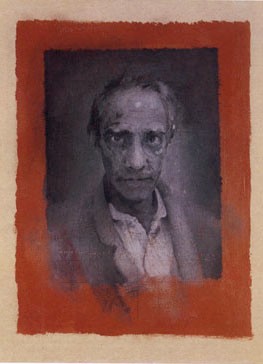 Catalogue entry from 'The National Portrait Gallery' by Charles Saumarez Smith, Director
Michael Clark's portrait of Derek Jarman, the brilliant artist, film maker, writer and gardener, was done on card at the Soho patisserie Maison Bertaux, just before Jarman's death from AIDS. By the time of his death Jarman had become a cult figure, and this is the last known portrait for which he sat. Jarman talked during sittings about his film Blue and Clark then worked from photographs. He added an inscription from Lorca in mirror writing:
GOZA EL FRESCO PAISAJE DE MI HERIDA......PERO PRONTO! ...EL TIEMPO NOS ENCUENTRE DESTROZADOS - ' Enjoy the luscious landscape of my wound ... but hurry! .... time meets us, and we are destroyed '
© Charles Saumarez Smith, National Portrait Gallery
Catalogue entry from 'Behind the Mask' by Sue Scott
Michael Clark is one the foremost exponents of contemporary British portraiture, whose work has been the subject of both critical acclaim and occasional outrage. He is an artist who has raised important questions regarding the nature and role of portraiture in the twenty first century, often working with themes of self and mortality in an age of AIDS, cloning and DNA fingerprinting.
Derek Jarman was a man of considerable achievements; a brilliant artist, film maker, writer, designer and gardener. He was nominated for the Turner Prize in 1986 in recognition of the outstanding visual quality of his films, especially Jubilee, The Tempest and Caravaggio. Before his death from AIDS in 1994 he became an outspoken advocate for gay rights.
The penetrating grisaille portrait of Jarman is painted on pale green card over red ochre ground, red ochre having anthropological associations with blood. The effect of the simultaneous contrast of the red /orange and grey together create a perception of the colour blue, the title and subject of a film which Jarman was working on at the time. Blue was Jarman's final and probably most daring cinematic statement, which tackled a narration about his life, his struggle with AIDS and his encroaching blindness. The choice of colours - black, white, blue, red and green - was also significant as they are the colours of cinema.
The artist chose to include in the picture, a quotation from the Spanish poet Lorca. Translated it reads, ' Enjoy the luscious landscape of my wound ... but hurry! .... time meets us, and we are destroyed ' . Incised in the mirror writing, it acts as a reminder to the spectator that it could be their face looking out, they who are affected by AIDS.
© Sue Scott - Catalogue entry Behind the Mask - The Hatton Gallery University of Newcastle upon Tyne - March - May 2002. - The Bowes Museum June - August 2002